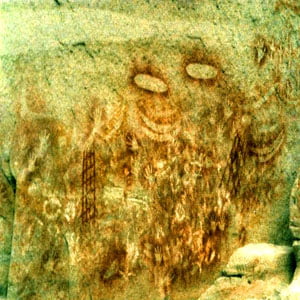 stencil art at Carnarvon Gorge (processed)
The Invaders were here for less than eleven generations. The land—especially where it nears the ocean—is disfigured by the bleached shells of their habitations. People trek there to salvage trinkets. It's dangerous: you have to tread carefully. Children love to burn the brightly coloured plastic—that is the only way to get rid of it. The Elders warn against the noxious smoke and say its stench is characteristic of that terrible time.
The Invaders devastated the land with their unnatural power. They poisoned the sky and the ocean. Their reckless, insatiable greed provoked retribution. The land burned, not the way the Elders do it—with love and knowledge—but with such fury that it drove the Invaders away. When children ask where they went, the Elders admit they do not know. Perhaps they are all dead: there was a great dying. The Elders show the children a record of that time scratched into the rock: strange, narrow figures almost lost in the wide record of the vast, sacred time before the Invasion. What are those eleven generations in the stretch of thousands of the dreaming? Nothing but a bout of fever we have recovered from.