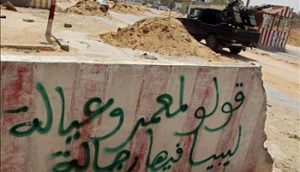 Libyan civil war graffiti
I am waiting to see if the Iranians are going to give me a visa – and, if it comes through, I should be off to Iran in a couple of weeks. I am a tad nervous about the visa because, against the advice of a friend of mine who has been to Iran, I wrote "author" for my occupation. He had expressly told me not to put "writer" because it could lead to the Iranian authorities thinking that I am a journalist and, for obvious reasons, they're not keen to have such as visitors. Why did I do this? Well, because a 'writer' is what I am; what I do – and I don't feel comfortable passing myself off as something I'm not.
While I wait (I have completed the 'design' for my Persian novel), I have been trying to learn Farsi. It seems to be an elegant and logically constructed language. I can now read it reasonably easily – and, suddenly, find that Arabic (Persian has been using essentially the same writing system since the Conquest, with the addition of some unique characters) has stopped being a bunch of squiggles (however beautiful) and actually makes sounds in my head. I noticed this last night watching the news from Libya – I could suddenly recognize letters in the graffiti scrawled on walls, and could begin to spell out words; my meagre skill should be good enough to read street and bus signs. This does beg the question: why don't more of us spend the tiny effort needed to make at least this much of an approach to the 'other'?