confessions of an arachnophobe reformed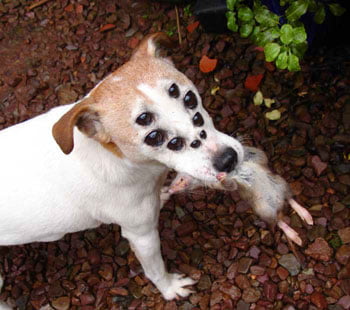 My friend Rem modified this photo I took of my dog, Ninja (a name given her by her previous owners) – having caught a rat, but that's another story – as part of a discussion on facebook… The effect is pretty horrible and there was talk about how much people loathed insects (and arachnids) in general.
I used to share these feelings – so much so that, for a long time, I was unable to eat prawns because I had begun to see them as 'insects of the sea'. Then I moved into the country and, gradually, with constant exposure to the critters, I have almost entirely got over my prejudice.
At one point I imagined how I would feel about insects if they were tiny little dogs or cats. Horrors would suddenly be transformed into Disney cuteness. Of course all I was doing was applying mammaliocentric criteria to the poor beasts.
I had already (like so many people) promoted bees to be 'honorary mammals' – like flying teddybears. I also made exceptions for butterflies… and ants… it isn't all that difficult to stretch the 'honorary franchise' to wasps and moths and beetles… Before you know it, they all start looking friendly – and you begin to see just how exquisite they are… like jewels, or knights in enamelled armour. What's an extra pair of legs between friends?
But I am being somewhat dishonest, for I have not quite extended the franchise to spiders. And it's not just that they've taken the extra legs thing just a bit too far… It's their faces… Most creepy-crawlies have the decency to have 'faces' we can get on with – you know: two eyes, a mouth (though perhaps not quite one you could put lipstick on) – but spiders make no concessions to the 'face'… It's those clusters of eyes that I find unnerving, and that have had me wondering what they think about what they see with all those eyes… and what they're thinking about… because, though you can imagine ants are singing 'hi, ho, hi, ho, it's off to work we go…', and bees are just humming something quietly to themselves, spiders are watching and waiting and plotting and thinking – and I don't really like to think about what they may be thinking as they watch me from a corner of my livingroom through their many eyes.
So, in my house, spiders haven't yet been given the vote – not that I bother them in any way. When I find three of them – three enormous bruisers – having some kind of conference in my bath – I drape some toilet paper over the edge as a ladder – just in case they're having difficulty getting out.
After all my brave talk, I have to confess that it may be a while before I'm happy to have one crawling around on my hand.