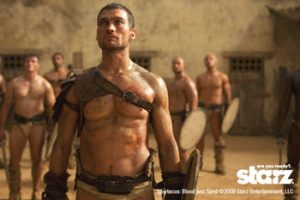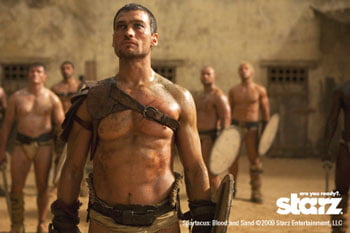 spartacus...
I have been watching Spartacus: Blood and Sand with much enjoyment and would like to counter various sneering reviews such as this (it was another review I can no longer find that provoked me to write here)…
The general drift seems to be to point out the banally obvious, that the show contains a constant diet of sex and violence, and to state that there is no plot. It seems to me that this entirely misses the critical point: that the sex and violence are the plot. Both serve to demonstrate the core aspects of the politics and culture they represent.
When you have two privileged people chatting about the day's business, while each is 'fluffed' by a slave to get them sexually aroused, before they enter into full copulation, with these and other slaves watching – then it seems to me that we are being given a profound lesson in cultural history that it might otherwise take screeds of text to convey.
Similarly, when you observe men highly trained to kill, decked out in armour and weapons exquisitely customized to provide entertaining matches (yes, like a computer game, but these were real people being maimed and slaughtered) before a baying crowd of gorethirsty 'citizens' – then something of the politics and morality of the Roman Empire is clearly communicated. Apparently, after a day at the Colosseum, whores would gather in the streets outside so that the audience, their libidos inflamed by hours of torture and bloodshed, could sate their passions there and then on the street. From what I've read, sex and violence were endemic to ancient Rome and many other urban centres of her empire – and these excesses were not something enjoyed underground but in the full glare of day, promoted by the state, indulged in by even the highest stratum of society…
Further, comparisons with Frank Miller's 300, though superficially true (Spartacus makes many stylistic borrowings), again seem to me to miss the point. 300 deliberately (or ignorantly) misrepresents history. To have Xerxes, the Persian King shown as some kind of S&M pervert (homosexuality being implied among other things), is a gross inversion of the truth. From what we know, Xerxes was a profoundly moral man, hedged about by a religious (Zoroastrian, arguably) code that was far more chaste than anything the Greeks had to offer. Indeed, those Spartan heroes, if correctly portrayed, would have spent the time before battle, combing their hair and primping themselves to appear as beautiful as they could in the coming battle. This from a military elite among whom homosexuality was compulsory. Not that I am expressing any judgement about this. Rather, I could not help being aware, while watching 300, of how Frank Miller had twisted his representation of history to reflect what appears to me to be a sinister notion of West versus East – a self-serving white hat/black hat analysis that has political consequences even today…
So, Spartacus: Blood and Sand is indeed comicbook – gloriously and creatively so, somewhat fantasy, and there is quite a lot of rather dodgy acting, but it is nevertheless a visceral portrayal of some aspects of Roman culture that goes some way to explaining why their slaves rose up, not once but several times, in grotesquely violent and desperate attempts to free themselves from the degradation and harm imposed on them by their masters…
tags:
achaemenid
,
anime
,
body horror
,
calligraphy
,
china
,
civilisation
,
classical world
,
comics
,
culture
,
foucault
,
graphic novels
,
homosexuality
,
japan
,
my reviews
,
otaku
,
persia
,
rome
,
sex
,
violence
,
xerxes