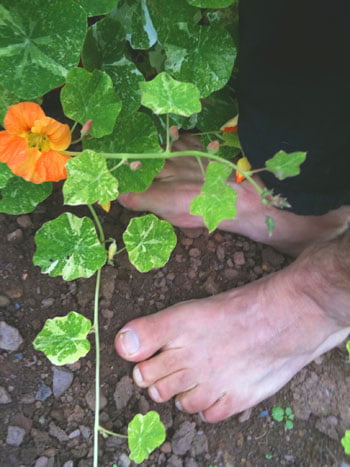 I had a revelation some years ago while camping with some friends near Cape Wrath when, over three days, I went barefoot. Not only did I discover that my feet could cope with any kind of terrain (by changing shape, they proved to be the best all terrain 'shoe' *grin*) but, more importantly, I realized in what a profound way feet 'feel' the earth. We clump around our world with 'space suits' on our feet – as if we are walking on an alien planet. Another way to think about it is that we inflict deliberate leprosy on our feet – making them entirely numb and 'blind' to the earth.
Various conclusions seem me to arise from this. Firstly, that what we fear seems predominantly be the human environment – the danger of broken glass, for example: it is in our cities that we feel footwear to be most essential. Then there is a notion of 'pollution' – that we might inadvertently stand on some dog shit. How many of us can't even walk on gravel without behaving as if it were white hot. We seem to believe that our feet are too delicate to walk naked on anything harder than a rug. Tough, of course, the human foot is as perfectly developed for walking on the earth as any hoof or paw. (It's possible that we've evolved a more delicate foot – but I'm not convinced we've been wearing footwear long enough for this to have happened.)
And here is what I consider to be most important: if it is the case that footwear is one of the 'gifts' of civilization – is it possible that this profound numbness to the earth: to soil, to stone, to stream, to boggy ground, to plants, to sand (perhaps the only one we regularly walk on – and, interestingly, one of the most sterile) – is it possible that it walks hand in hand with the literal disconnection from our planet that makes it easier to despoil, pollute and destroy her?
It seems to me that much could be gained by moving towards – if not walking barefoot – the development of some kind of footwear that would allow as much sensation to come through to our feet as possible…
As 'civilization' marches on, more and more people are cutting themselves off from touching, daily, Mother Earth. Soon, not one of us will stand barefoot upon her and that seems to me a dangerous divorce…