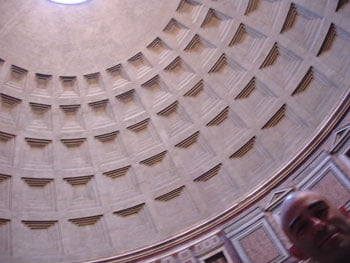 For most of last week I was in Rome. This was the first time I have ever been to Italy. In spite of my love of everything ancient, the Romans have never been a culture that has appealed to me. Nevertheless, I am fully aware of just how much we are still in their shadow… and so it would be strange indeed not to wish to visit the Eternal City.

What with global warming, never mind the cost of travel, I am conflicted whenever I become a tourist – especially as I have found that travel can 'narrow the mind'… I suppose I should explain what I mean by this. The notion that travel "broadens the mind" relates, it seems to me, to a period before TV (and certainly before the internet). A time when what people knew about the world was often distorted through their own 'cultural lens'… not just a sort of game of Chinese whispers, but actual prejudice: the 'other' worshipped wrongly, or, worse, worshipped entirely the wrong gods. They ate strange (probably disgusting) food. They had dubious morality or the wrong colour of skin. This 'lens' distorted not only the present, but also the past. All you have to do is consider Hollywood epics (more recent ones are now attempting some reflection of the truth) to see what an entirely fantastic confection of history these present… In this context, and in contrast to it, of course travel "broadened the mind" – how could it not?
Things have changed. For most of us, the 'other' is living among us. We eat their food and, as the conviction in our own religions falters, their beliefs often seem just as plausible as (perhaps even more so than) our own. Our TV screens let us see the rest of the world in ever increasing detail and clarity. From the comfort of our homes we can peer at the most exotic creatures, anywhere, at any scale, watching the most intimate aspects of their lives. Not for us the
dodgy dolphins
of the Renaissance; or
Dürer's rhino
… We've seen the real beasts!
Now, like you, I've seen most every famous ancient ruin many times… close up… without the crowds… with some elegantly informative voice-over… on TV. When you have only heard rumours or legends of a ruin, then standing in front of it must be quite some experience… When you have seen it exquisitely presented in a documentary, standing in front of it can often be a let down… I found this with Angkor Wat, with the Temple of Karnak in Egypt, with the Pyramids, for frot's sake!!! Crawling with tourists and locals trying to sell you tat, embedded in some modern suburb of just another city; any ancient ruin can easily be an anti-climax. My point being that the images you have in your mind of these places might well be 'better' than the real thing.
You may now be able to understand something of my reaction to wandering around Rome. Of course it is spectacular, beautiful – but less so than I had expected. The Pantheon was amazing – because it is NOT a ruin, and thus, when you are in it, you may as well be in ancient Rome. It is, besides, a stunning space that can bear comparison with any other I have ever been in. The Colosseum I found impressive – once in it, you are cut off from the rest of the world. The Basilica of St. Peter seemed to me rather vulgar… intended entirely to overpower and to demonstrate wealth… a LOT of wealth! But in the tide of tourists, the building had as much sanctity as a mall… The Vatican Museum, on the other hand, was breathtaking. Of course, the experience of moving through it is also entirely designed to impress on the visitor the mind-boggling wealth of the Popes and the glory and sheer antiquity of the Catholic Church. It is, besides, a befuddling sequence of corridors and courtyards stuffed full of the most exquisite treasures – it felt like a dream.
But then Rome is just another modern city and the culture of its people hardly distinguishable from my own… so that I was left wondering what was the point of using so much fossil fuel to get me there… The ever increasing sophistication of transmission technologies allow us to 'telepresence' – to be in Rome virtually – any Rome, not just today's, but yesterday's… Strangely, I feel that I can better justify to myself travelling further afield – because, at least, there is a chance of meeting something, someone that is genuinely 'other'… though, with every passing year this 'otherness' is slipping away.