Margaret Atwood / China Miéville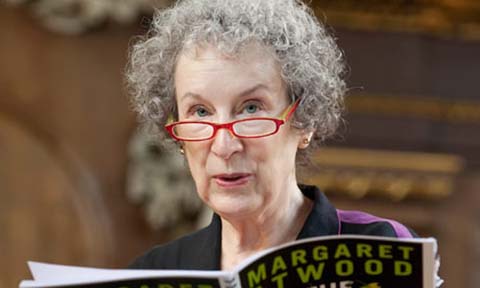 I went to the launch of Margaret Atwood's new book Year of the Flood primarily because my partner was singing at it. It was held at a church in the centre of Edinburgh and was very well attended – so well that I had to queue for returns – and only got in because a kind American woman gave me her ticket.
What followed was a rather uninspiring affair. Atwood read passages from her book, the choir sang the 'hymns' she had invented for it and some other volunteers acted out parts – again, from the book. What struck me was that the whole thing sounded like an episode of Survivors – to be fair, I want to make it clear that I'm saying all these things without actually having read the book though, on the basis of what I experienced in that hour, I'm not likely to.
I have read two of Atwood's books – Alias Grace – that I can remember nothing about – and The Handmaid's Tale that I thought was brilliant… So I'm not saying the woman can't write… but what get's my goat are the claims that she persistently makes about her more recent writing ie. that "it's not science fiction"… I listened to her being interviewed by Mark Lawson on Front Row where she said – several times – that the reason this new book of hers was not science fiction was because science fiction had things like "talking squid" in it. With that term, I feel she betrays herself. To dismiss all of science fiction as being the kind of writing that might have a talking squid in it (not that I have anything against squid, talking or otherwise!) is either profoundly ignorant, or disingenuous. Of course I understand why she struggles so hard to distance herself from the genre – more often than not, writing in the genre leads to work being ignored both by critics and reviewers and thus by many readers who might well enjoy it. (The success of Atwood's 'speculative fiction' would seem to suggest this might be true.) Of course it is because my own work has suffered this fate that this issue makes me angry. So, I understand that Atwood is behaving like this to protect her own interests, but what I don't feel is acceptable is that she should do so by dissing science fiction and those who work in that genre… Being dramatic for a moment: history is littered with examples of the persecuted joining the ranks of the persecutors so as to save themselves.
Ursula Le Guin, a writer of the first rank whose many brilliant books are dismissed because they are classified as science fiction, puts this better and with more grace in her recent review in the Guardian. Perhaps it would be wise for me to defer to her (qualified) praise for The Year of the Flood though I wonder if it wouldn't sink without a trace were it sold as science fiction, if only for the reason that the post apocalypse novel is already a venerable tradition and has been done brilliantly by many authors – however surprising such a concept might be to Atwood's 'literary' readers.
Imagine then my relief when I went off to listen to China Miéville being interviewed (by Stuart Kelly). Here was someone who is happy to tell anyone who wants to listen about his fascination with creatures with tentacles. He is also someone who writes fresh and literate books on the cutting edge of genre fiction. In fact, his books have had the tendency to cut through the edges of the various genres that attempt to contain them. His latest book The City and The City punches its way out of fantasy/science fiction into another genre, crime. Miéville read passages from various books – including one of startling invention from a work in progress. All of it was far more engaging, both linguistically and in its ideas, than anything I had heard from Atwood. Kelly wondered out loud when Miéville might win the Booker Prize – but we all know this is unlikely because such awards are not for genre writers.