Carnelian stands up for publishing freedom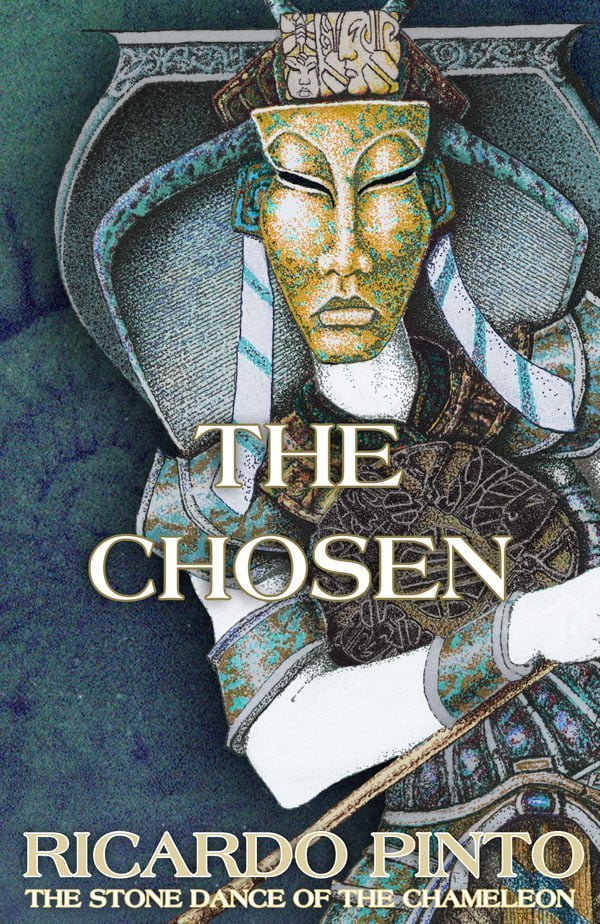 I've changed the cover of The Chosen, volume two of The Stone Dance of the Chameleon. I was working on the cover for volume six, when I noticed that the cover for volume 2 didn't sit comfortably with the others: the image sat too low on the page. I experimented a bit, and created the new cover you see here. Comparing the new with the old, I hope that you will agree that the new cover is a great improvement. It is as if Carnelian, who was crouching, decided to stand up.
This seems to me a good example of how profoundly different the brave new world of self-publishing is; there is no way you could have made this change in traditional publishing. For one thing, you would have a large number of books already printed sitting in a warehouse somewhere. In such a scenario, it would be utter madness to change the cover—you would have to pulp all the existing print run and go through the vast expense of doing a new one.
What this demonstrates is that self-publishing has transformed books from being static entities, to being dynamic and fluid ones. For a digital book, this is unsurprising—even though most ebooks are still produced according to the logic of traditional publishing—but for a paper book this is a game-changing consequence of the near-miraculous technological leap that is print on demand.
The various technologies enabling self-publishing, have moved the book from being a bespoke 'construction'—whose economic logic depends on mass production—to being something more akin to a software application—and this can even be true for the modern paper book. You may not have noticed, but my Second Edition Stone Dance books have already been updated several times—The Masters is currently at version 2.0g. The corrections I've made are subtle, but I am gradually perfecting each book, the way software developers do their apps.
There is an interesting coda to this little tale, and that concerns the value of books. Previously, when we bought a book, it would be one of a print run of thousands. With the process I'm describing, each edition may have several 'versions'; so that the copy of a paper book that you own is likely to be one of a far smaller number of identical artefacts. Those of you who have a copy of The Chosen with the previous cover, now own a rare edition of which there were only a relatively few ever printed—there will never be any more books identical to the one you hold in your hand.
Continuing this theme of rarity, I have selected seven names, from a hat, from the people on my mailing list, to send one of seven proofs of The Chosen as a keepsake. These seven books are rare enough in themselves—each is one of eight (I'm keeping one for myself)—but four of them are even more unique, in that the colours on their covers are substantially different. If you want to see if you have won one of these proofs, please watch the video below.
I hope the winners will understand that, given the current lockdown with the Covid-19 virus, I'm not sure when I will be able to post them to you.
Keep safe.