a special offer on signed Matryoshka hardbacks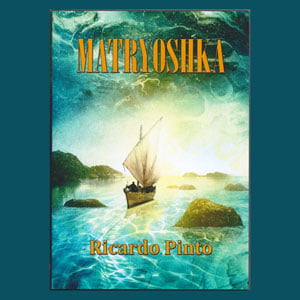 As part of the process of 'clearing the decks'—in the run up to the publication of The Masters—I want to pay a little attention to my novella, Matryoshka—with a special offer over the next two days on the limited edition hardback (see below).
After ten years working on the Stone Dance, I set out to write something considerably more modest, and Matryoshka was the result. To be honest, I overshot: it was supposed to be a novel but ended up being a novella. Don't let its shortness fool you: it required a serious effort of world creation.
Unbeknownst to me at the time, Matryoshka was to be the stepping stone between the two editions of the Stone Dance. Through countless rewrites, I developed a leaner, terser style that was a reaction against—what I came to feel was—the verbosity of the First Edition Stone Dance. I applied this new style to produce a vastly leaner and reworked Second Edition.
Matryoshka is a response to Robert Holdstock's wonderful Mythago Wood in which, like Narnia, there is a hidden world in which time passes more slowly; so that visitors to that world from ours experience adventures that last years—decades even—and still return to our world only a short time after they left. I wondered what would happen if time in the hidden world, instead of slowing down, were to speed up: so that, like a spacefarer, returning from a long journey close to the speed of light, the traveller would find that an immense span of time has elapsed on Earth. I suppose that such a story is more Rip Van Winkle than it is Mythago Wood.
Another inspiration for Matryoshka is Roadside Picnic by the Strugatsky brothers—from which Tarkovsky made the film Stalker—where 'rubbish' discarded by alien picnickers has startling and terrible effects on the physical world. Such a device lies at the centre of Matryoshka—vibrating at relativistic speeds that distort time ever more violently the closer you get to it. Thus, though it appears to be a tale of fantasy, underlying it is a series of fairly 'hard science' conceits; those interested in puzzles may seek to decrypt the references in the story. In short, Matryoshka is science fiction. Alas, I did not make this clear to Ian Whates, my editor and publisher at Newcon, and when I received a hard copy of the book, I discovered Matryoshka had been labelled as fantasy. In truth, I may have made the sci-fi underpinnings a tad too subtle…