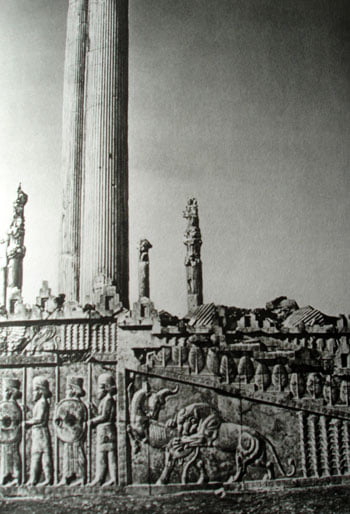 I have decided to postpone my visit to Iran by three weeks.
What happened is this. I had been hanging around in London waiting for an agency in Turkey to arrange for me a train from Istanbul to Tehran. A few days ago I was sorely disappointed when they informed me that the weekly train, leaving next Wednesday, was fully booked. By then I was determined to make this train journey and asked them instead to book the next available one – leaving Ankara on the 5th of October. I was waiting for news of this when, through a friend, I made the acquaintance of Lloyd Llewellyn-Jones, who happens to be a professor at Edinburgh University specialising in Achaemenid Persia. In the middle of giving me inspiring advice about travelling in Iran, he told me that he was hosting a conference on Persepolis in Edinburgh in mid-October and invited me to attend.
At first I thought to continue with my original plan, but the temptation to go to this conference grew in me until, this morning, I told him I would attend. I have asked my Turkish contacts to book train tickets for three weeks' time, and I will be returning to Edinburgh tomorrow.
I will try and report my experiences from the conference – apart from wanting to go for the content, I'm also curious to see what they're like – I've read so many collections of papers from such conferences. My understanding is that the achaemenid community is quite small, and that these conferences are rare beasts…
I'm really rather excited at the prospect 🙂