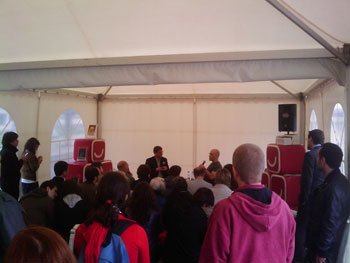 (version in English follows that in Portuguese)
Quando eu vim a Portugal, já não tinha estado lá à 18 anos… Eu não viajo muito, e quando eu saio da Escosia eu prefiro ir a sítios exóticos: Guatemala, Sri Lanka, Camboja etc – eu raciocino que quando estiver jovem suficiente para aguintar as condicões e climas destes pais vou visitar-lhos – e depois, quando estiver velhino, acho o tempo para viajar aos sítios mais próximos. Mas, quando eu cheguei a Portugal sabia logo mesmo que não é só um 'sítio próximo'… Se querem entender o que Portugal é para mim só é preciso ler o capítulo O Fruto Proibido nos Os Escolhidos – o Jardim do Yden (pronunciado idén com uma ressonância pretendida com o Jardim de Éden) é a minha experiência de Portugal quando era uma criança… Mas, também, vocês, que sabem o que acontece no Yden, têm alguma compreensão de como, para mim, isso não é só uma associação com a luz.
Com um a certa ressonância poética eu, que vim a Portugal para lançar um livro extremamente escuro, pareça trazer comigo o frio e a escuridão do inverno *sorriso* Mas esse frio foi compensado pelo calor da recepção que recebi da minha família portuguêsa e o pessoal dos meus editors, Editorial Presença. Com amizade e profissionalismo, esse pessoal (Raquel Dutra, Inês Mourão, Ricardo Sabino e Raul Martins) organizaram o eventos na Feira do Livro. O João Seixas entrevisto-me com habilidade e a audiência ajudou-me – ainda assim, a dificuldade de falar em português sobre as matérias subtis e emocionais da Dança de Pedra canso-me muito. Não que estou queixando – foi uma experiência maravilhosa.
Depois hove a sessão de autógrafos em que eu tive o grande prazer em encontrar-me com alguns de vocês, meus leitores – alguns que já conheci de email ou facebook… é só uma pena que não tivemos mais tempo para falar… Talvez na próxima vez… :O)
Eu gostaria de agradecer todos que fizeram a minha visita tal um prazer.
When I went to Portugal I had not been there for 18 years… I don't travel that much and, when I do, I tend to prefer to go to exotic place: Guatemala, Sri Lanka, Cambodia – with the justification that while I am young enough to be able to cope with the difficulties, discomforts and climate of these places that's the best time to go an visit them – there will be enough time when I am old to travel to the nearby places. But when I arrived in Portugal I quickly became aware that it was not just one of those 'nearby places'… If you want to understand what Portugal means to me all you need do is read the chapter entitled Forbidden Fruit in The Chosen – the Yden (as an intended reference to the Garden of Eden) is a representation of my experience of Portugal when I was a child. Though, those of you who know what happens in the Yden will have some comprehension how, for me, this is not merely an association with the light.
With a certain poetic resonance, it was I who, coming to Portugal to release an extremely dark book, seemed to have brought with me the darkness and cold of winter (the weather during my stay was unseasonably cold and wet – so much so that it probably stopped a lot of people attending the launch events). But that cold was more than compensated for by the warmth of my reception by my family in Portugal and the representatives of my publishers, Editorial Presença, (Raquel Dutra, Inês Mourão, Ricardo Sabino e Raul Martins) who organized the events at the Lisbon Book Fair with friendliness and professionalism. João Seixas skilfully interviewed me and I was helped out by the audience being able, with their knowledge of English, to span the infelicities in my Portuguese. Even then, with the difficulty of talking about the subtle and emotional issues in the Stone Dance, I was left drained. I'm not complaining – it was a wonderful experience.
Afterwards there was a book signing when I had the great pleasure of meeting some of my Portuguese readers – some of whom I already knew from contacts through email and facebook… it's only a shame that I did not have more time to talk to them.